Drupal
Drupal is a content management system (CMS), it means that it allows us to edit our website with a graphical interface. CMS will allow you to edit your website without knowing anything about code. Whearas modifying your content by code, you'll be able to simply edit your content with your mouse. The first competitor of Drupal is Wordpress and they both have their pros and cons.
Drupal is:
An open-source software with a huge community of professional developers.
The best flexibility. It's (almost) possible to do anything you want with Drupal.
The most secure CMS on the market. A lot of governmental organizations actually trust Drupal for their website.
Drupal is also:
Development time that can be a bit long (when it's about creating custom code).
Costs that can be important, because of the previous point mostly.
Basically, Drupal is the best solution if your website is at the heart of your business. It will probably cost you a bit but will guarantee you to have the most secure and flexible CMS.
Web development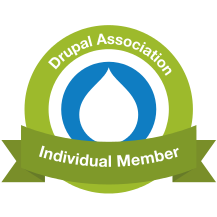 I'm a full-stack developer (PHP / Symfony / Mysql / HTML / CSS / Javascript), it means I can handle back-end and fron-end.
I have a small preference (and so more expertise) for back-end (PHP / Symfony / Mysql), but it's mostly because that's 80% of my clients requests. I'll actually be glad to work on a project on react.js for example.
I also have expertise in GNU/Linux and can deal with server management.
Working together, it's for you a single contact person taking care of everything ... from A to Z.
Marketing
A website is firstly and mostly a communication support on the most trendy support nowadays: The internet.
To make it successful, there are plenty of factors on which we can play and have to play together.
Identification of your marketing target (landing website, showcase site, services website) and the purpose of your website.
Choosing of a relevant domain name.
Respect for your existing communication design and the one from your website.
Linking your website address on any communication document you share: business card, email signature, flyers ...)
Developing in accordance with the technical and SEO standards (metatag, content quality, clean code, etc.).
I'm helping you with all of these, during all the processes from the quotation to the end of the project.